Grand Lofts
Los Angeles, CA Downtown Los Angeles
BEYOND THE STATS
The Grand Lofts project, located in South Park near the Staples Arena, is significant in its re-use of an existing four-story structure as the base for three additional stories of new steel construction.
In order to bring natural light into the building, completed in 1927 as a warehouse for the Pepperdine Automotive Supply Business, a courtyard was cut through all floors including the basement. This allowed for additional units and balconies, and created unique, light-filled two-story units at the basement and first levels.
Vertical pilasters tie the old building and its detailing to the new structure above, and new pop-out elements on the east elevation provide distinctive spaces that float above the city below.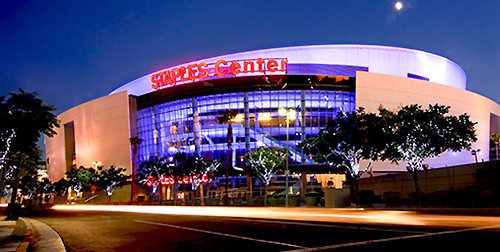 Staples Center
A multi-purpose sports arena in Downtown LA; dessert carts are an added bonus and treat—entertainment and sugar!
1111 S Figueroa St, Los Angeles, CA 90015
https://www.staplescenter.com/
Internal Server Error
The server encountered an internal error or misconfiguration and was unable to complete your request.
Please contact the server administrator, webmaster@kfalosangeles.com and inform them of the time the error occurred, and anything you might have done that may have caused the error.
More information about this error may be available in the server error log.